Think tank's opinion on pensions not valid
The Cincinnati Enquirer recently published an opinion column that incorrectly draws a bleak picture of Ohio's pension systems.
The column, titled, "Ohio's finances worse than they appear," was written by two employees of the Mercatus Center at George Mason University, a conservative think tank that includes billionaire Charles Koch on its board of directors.
The article states that "Ohio's long-running reluctance to fully fund its pension program threatens its ability to keep its promises to public sector retirees."
This statement illustrates an uninformed view of the way pension systems operate here.
Ohio doesn't have a "long-running reluctance to fully fund its pension program." Actually, the state doesn't even have a "pension program." It has five state-level, public pension systems, each with separate boards and governance structures.
The employers that belong to the Ohio Public Employees Retirement System have always made contributions on behalf of public workers who rely on our system for their retirement, since Ohio is a non-Social Security state.
The column recycles a study that the center published last summer that recommends pensions should use "risk-free" investments to discount liabilities, something no creditable actuarial organization would recommend for long-term investors.
Further, the report notes that "it is not clear where the burden may fall in the event that a state-managed and locally financed plan runs into trouble."
That designation doesn't completely describe systems such as OPERS, which include state financing (in the form of employer and employee contributions).
The Enquirer column mentioned "the implicit threat of higher taxes or drastic, emergency spending cuts" in reference to unfunded pension liabilities. For OPERS, our liabilities are our own, and we strive to adjust benefits before asking the Ohio legislature to increase contributions should we need to do so.
When our funding was threatened after the Great Recession, we enlisted the aid of the Ohio legislature to pass a sensible redesign of our benefit structure that resulted in zero additional contributions from taxpayers. At no time were additional contributions or emergency spending even considered, something which the Mercatus Center failed to recognize.
The legislature's action in 2012 helped to ensure our fiscal strength, assuring our future is anything but bleak.
The bottom line is that OPERS is adequately funded at 84 percent, well above the 80-percent threshold that is widely accepted as healthy for a pension fund. We can pay off those unfunded liabilities in 21 years, well below the 30-year threshold that is written in Ohio law.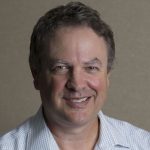 Michael Pramik is communication strategist for the Ohio Public Employees Retirement System and editor of the PERSpective blog. As an experienced business journalist, he clarifies complex pension policies and helps members make smart choices to secure their retirement.