Brown wins 11th annual OPERS leadership award
The Ohio Public Employees Retirement System annually recognizes one employee for practicing the leadership qualities of one of its former leaders.
The Neil V. Toth Leadership Award is given in honor of Toth, the system's chief investment officer from 2000-05 before passing away from cancer at age 43. Toth epitomized quality management during his 15-year OPERS career, further building our system to one of the most respected in the country.
"Neil was the embodiment of OPERS' core values," said Executive Director Karen Carraher. "I consider the Toth Award our highest honor."
This year, the award went to Tonya Brown, an officer in our Enterprise Process and Program Governance Office. Brown has been at OPERS since 1996 and is identified with a number of significant initiatives that have saved our system money, reduced processing time and increased customer satisfaction.
Brown's skills include increasing the consistency and availability of data in our everyday activities, so we don't have to rely on assumptions to make project management decisions.
She's also part of a transition leadership team in OPERS' Enterprise Risk division.
"Neil did all the little things that define leadership," Brown said. "I'm very honored to receive this award."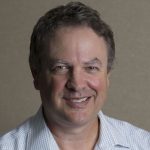 Michael Pramik is communication strategist for the Ohio Public Employees Retirement System and editor of the PERSpective blog. As an experienced business journalist, he clarifies complex pension policies and helps members make smart choices to secure their retirement.