OPERS adapts to changing investment environment
We're lowering our expected investment rate to 7.5 percent
By Michael Pramik, Ohio Public Employees Retirement System
Nov. 16, 2016 — Like many other pension plans, the Ohio Public Employees Retirement System is reducing its investment return expectations because of changes in the global economy.
This adjustment in OPERS' expected rate of return is part of our continuing effort to keep our pension plan healthy and sustainable, and is part of a rigid review cycle. The changes that OPERS made in 2012 to our pension and health care funds strengthened our system and allowed us to lower our expected returns now.
"This adjustment is important because it determines how we expect to fund the plan," said OPERS Executive Director Karen Carraher. "It will increase our unfunded liabilities in the short term. But the good news is that we remain financially sound and in compliance with Ohio retirement law, and our ability to pay pensions to our members is unaffected."
OPERS' long-term investment assumption had been 8 percent since 2002, but this week the OPERS Board of Trustees lowered the rate to 7.5 percent. The vote followed the review of a five-year experience study by independent financial experts that projected a future investment environment less conducive to earning the 8 percent return.
It's important to note that this rate is intended to be representative of a long-term investment horizon, one which exceeds 30 years.
Many institutional investors have been lowering their earnings expectations, reflected in the interest rate they use to estimate future benefit liabilities. The average rate used by 127 public pension plans, surveyed by the National Association of State Retirement Administrators, was 7.62 percent in February.
Because our first commitment to our members is to pay pensions, this week's move will have an effect on the amount of future funding allocated to the OPERS health care fund.
OPERS allocates part of our employers' contribution to the pension fund and part to the health care fund. The rate adjustment means OPERS will allocate more contributions to the pension fund in the near term.
Because of the tough decisions OPERS made in 2012 to our pension and health care plans, this allocation change will not alter the OPERS health care plan for 2017, and the plan will remain on sound footing into the future.
"We need to be prudent with our funding in all aspects of our system," Carraher said. "This move to a lower return expectation is a best practice and a part of our future funding success."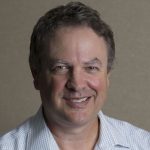 Michael Pramik is communication strategist for the Ohio Public Employees Retirement System and editor of the PERSpective blog. As an experienced business journalist, he clarifies complex pension policies and helps members make smart choices to secure their retirement.