Welcome to the new PERSpective blog
Updated design, new bloggers to keep readers in mind
The Ohio Public Employees Retirement System introduces an improved PERSpective blog, designed to be more responsive to the needs and interests of our readers.
PERSpective debuted in March 2011, providing a convenient way for our members and stakeholders to communicate with us and to learn about important pension and health care issues. So far, we've had nearly 2.5 million views, a testament to the blog's success.
With the new design, we'll continue our advocacy for our members and retirees, as well as provide new features to enhance the experience.
First, we're introducing several new bloggers who will be happy to lend their expertise to you:
Betsy Butler, providing pension industry research
Donna Castiglione, giving helpful tips from our Member Services department
Chris Collins, bringing you government relations updates from Columbus and Washington
Kristen Dohrmann, sharing news and information for our active members
Heather Drago, explaining important health care issues
Bobbie O'Neil, showing you the ways we provide member and retiree education
The new design will include photographs, including many that show our associates at work. Look for more videos, too, especially on health care and education topics. And, we'll be posting more often to keep you better up to date.
Finally, we're going to keep the conversation flowing – you'll still be able to comment on our blogs, a communication tool that we believe sets our social media program apart from those of other public pension systems.
If you have any tips or suggestions, please let us know by commenting on this blog.
Welcome to the new PERSpective.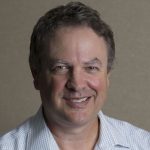 Michael Pramik is communication strategist for the Ohio Public Employees Retirement System and editor of the PERSpective blog. As an experienced business journalist, he clarifies complex pension policies and helps members make smart choices to secure their retirement.