Say 'ahhh': Annual statements get new look
Keep better track of your financial health with a yearly checkup
By Donna Castiglione, Ohio Public Employees Retirement System
March 27, 2017 – I'm sure you can all agree that it's much better to pay attention to your health with regular check-ups versus only when you get sick.
The same is true about your retirement. If you are actively working and contributing to the Ohio Public Employees Retirement System, every year in the spring we send you an annual statement. This year's statement has been freshened and improved, offering a new, more concise, easy-to-read design.
The new statement features benefit estimates beyond your initial eligibility, illustrating the value of working longer. Plus, we've created an interactive, online tool that provides term definitions, an explanation of the estimates provided and links to more information. You can find this and other resources at the "Got Mail? Get Answers" section of our website.
We'll mail annual statements over the next several weeks, by ZIP code. You should consider the statement as one piece of your annual financial checkup. Below is a list of some of the items you may want to include in your annual check-up:
Review your OPERS annual statement. You will see important information about when you will be eligible to retire and what type of benefit you can expect.
Review any other retirement income you will have access to such as Social Security, IRAs, 401(k) plans and money you've invested with Ohio Deferred Compensation.
Research how much money you will need annually in retirement. The amount you need varies depending on your plans during retirement, but some sources suggest 80 percent of your current salary. You should consult a financial planner to help you set goals that will meet your specific needs.
Review your options for health care in retirement. While you may qualify for health care coverage through OPERS it is important to remember that this is not a guaranteed benefit, and you will be responsible for a portion of the cost. While we do our best to keep costs low, we are not immune to the changes impacting the rest of the country.
Our website offers many resources to members close to retirement. Consider attending one of our "Ready to Retire" seminars, or schedule an appointment with one of our counselors. If you are still years away from retirement you will want to explore options to address any gaps in your plan. The main objective is to do something about your retirement every year.
As a side note, if you want to view your annual statement early – or help save trees – you can select electronic delivery through your online account. Simply log in to your online account and select My Profile, then Contact Preferences.
Once there, scroll down to Contact Information and Preferences, click the Edit button and change your Correspondence Preference to Electronic. You can view your Annual Statement through your online account by selecting the Documents menu.
Our goal is to have you fully prepared for retirement, and an annual checkup of your retirement plan is a great way to do that.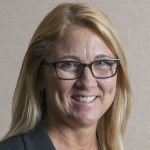 Donna Castiglione is the assistant director of Member Services and has been with the Ohio Public Employees Retirement System for more than 13 years. She has extensive experience in customer service management in a variety of industries.