Mandated rules often dictate the terms of our members' benefits
By Donna Castiglione, Ohio Public Employees Retirement System
June 2, 2017 – Being smarter consumers is a hot topic lately and has people looking for ways to get the most out of their dollar.
Some sources advise you to ask for discounts or a supervisor to get a better deal.  While we are all for our members getting the best deal you can, you really can't apply it to what we do at the Ohio Public Employees Retirement System.
OPERS is governed by the Ohio Revised Code Chapter 145 and Ohio Administrative Rules, which outline what we can do. For example, if someone left public employment and wanted to refund their account right away we simply could not do it. The current law states that they need to wait two months. This time period is simply not negotiable no matter how much someone wants us to do it. (One of the reasons for this law is to ensure that we have all of the member's contributions from their employer prior to issuing a refund so we are sure to issue the correct amount.)
We will always do our best to help you understand the law and are empathetic to your personal situations; however, the law is the law and in the end that is what we have to follow.
Something we do encourage for our members is to be better health care consumers, which can save you and OPERS money and help us to be able to continue to provide health care to our retirees. We are also looking for ways to help you make better financial decisions earlier in your careers that will positively impact you in retirement.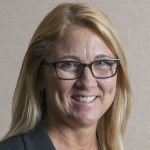 Donna Castiglione is the assistant director of Member Services and has been with the Ohio Public Employees Retirement System for more than 13 years. She has extensive experience in customer service management in a variety of industries.