Retiring with enough money
Book fleshes out ways to achieve security in later years
By Betsy Butler, Ohio Public Employees Retirement System
July 17, 2017 – Too many Americans nearing retirement are facing a future in which they'll have to keep working indefinitely. Many have less than $30,000 saved for retirement; a third have nothing saved at all.
That's a sobering thought when it's estimated that the average middle-class person needs about $250,000 for out-of-pocket medical costs in old age. What's more, to retire at a standard of living similar to the one enjoyed during their working lives, the average person will need eight times his or her annual salary in retirement accounts. No wonder people are worried.
Those statistics prompted economist and retirement security expert Teresa Ghilarducci to write a short, understandable retirement-planning book that offers a clear answer to this national problem. In "How to Retire With Enough Money: And How to Know What Enough Is," she suggests what people can do as consumers, investors, savers and workers to help them feel more secure about their retirement.
Sit down with this book, and you'll discover how you can:
Get a grasp on how much money you'll need at retirement to go on living the way you did during your working years.
Estimate how much money you're likely to have coming in after retirement.
Downsize your lifestyle now by trimming your spending and saving beyond what you need.
Realistically consider how long you can work before retiring.
Ghilarducci shares ways workers in their 50s and early 60s can pursue new, fulfilling careers instead of saying goodbye to paid work. For instance, older workers can increase their appeal to employers by seeking interesting, engaging educational opportunities that can help them master new technologies and techniques.
The book also helps those eligible for Social Security benefits discover the advantages of delaying receiving those full benefits until age 70.
Ghilarducci, who also authored "When I'm Sixty-Four: The Plot Against Pensions and the Plan to Save Them," is an interesting person to follow because she's fiercely supportive of defined benefit pensions for public workers. To keep up with her work, follow her on Twitter at @tghilarducci and visit her website.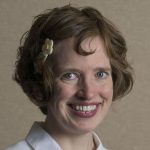 Betsy Butler is the Ohio Public Employees Retirement System's knowledge and issues strategist, researching information on pensions, retirement and health care. Betsy came to OPERS in 2009 after working as a special collections librarian for two OPERS employers: the Ohio History Connection and Miami University.