Disrupting the aging process
Turn the senior moment into the life you want
By Betsy Butler, Ohio Public Employees Retirement System
Nov. 14, 2017 — Who will change your light bulbs? How will you get an ice cream cone? With whom will you have lunch?
These three questions might seem unrelated to retirement planning, but they're designed to address how well you'll be able to achieve a happier, more fulfilling life as you get older. The Age Lab at MIT developed the questions for Hartford Funds to converse with clients about investing in their future.
AARP CEO Jo Ann Jenkins shares them in her 2016 book, "Disrupt Aging: A Bold New Path to Living Your Best Life at Every Age." Since joining AARP in September 2014, Jenkins has been on a mission to redefine what it means to be an older American. Her book is her rallying cry to embrace growing older and to make the most of it.
Forget the balloons, the "Over the Hill" banners and the cute quips about the onset of old age.  Instead, when we reach a milestone birthday, Jenkins encourages us to celebrate and look forward to the years ahead as our time to make a difference, be energized by our pursuits and live the life we've always wanted.
She also calls for a change in how Americans see the aging process. In 2015, AARP and six other prominent aging organizations looked at people's attitudes about aging. "Gauging Aging: Mapping the Gaps Between Expert and Public Understandings of Aging in America" found that people generally hold an aspirational view of aging. They want to be self-sufficient and stay active, but our culture views aging as a deteriorating process of dependency and reduced potential. These negative views make aging something to be dreaded, rather than an anticipated event that brings new opportunities.
Instead of considering aging as a time for deterioration and dependency, we should consider "extended middle age" as a time to focus on our physical and mental health; our financial resilience, so we won't outlive our money; and our self, so we have a sense of purpose, confidence and a positive self-image as we age.
Jenkins introduces readers to the new reality of aging, emphasizing the importance of owning your age, designing your life, taking control of your health, choosing where you live, financing your future and putting your experience to work. What results is a shift from "mindless aging" to "mindful living."
Take action to live your best life, Jenkins urges. Asking "Who do I want to be?" "What are the opportunities around me?" and "What's one small thing I can change about my health?" are ways we can plan to thrive in, not just survive, our later years.
For more insights about the Age Lab, a research program that works to improve the quality of life of older people and their caregivers, read the brief entitled, "Three Questions That Can Predict Future Quality Of Life."
Join the conversation about what it means to grow older. Add your thoughts at the AARP disrupt aging site or with the hashtag #DisruptAging if you're on Facebook or Twitter.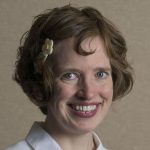 Betsy Butler is the Ohio Public Employees Retirement System's knowledge and issues strategist, researching information on pensions, retirement and health care. Betsy came to OPERS in 2009 after working as a special collections librarian for two OPERS employers: the Ohio History Connection and Miami University.