Book details how businesses should adapt to the "Longevity Economy"
By Betsy Butler, Ohio Public Employees Retirement System
Nov. 30, 2017 — I once participated in an industry conference session called "Aging As An Extreme Sport," led by Joseph F. Coughlin, founder and director of the Massachusetts Institute of Technology AgeLab.
Recognized for his creative contributions to reshaping the notion of retirement, Coughlin leads the AgeLab in designing and developing technological innovations to improve people's health, enabling them to stay active, and increasing their quality of life. One of those innovations is the "Age Gain Now Empathy System," which is abbreviated as AGNES. It's a suit of clothing that makes the wearer feel increased fatigue, pain in the joints and difficulty with vision and balance. It's designed to illustrate the physical effects of aging.
AGNES helped CVS Pharmacy change its store design to make it easier for mobility-impaired customers to navigate. That's one of the stories Coughlin relates in his new book, "The Longevity Economy: Unlocking the World's Fastest-Growing, Most Misunderstood Market." Coughlin suggests that the over-50 crowd not only dominates the American economy but also is creating a new vision of aging, which businesses would be well-served to heed.
If you're interested in making the most of life after age 50,  Coughlin suggests ways to connect with other people. Consider joining a "companionship community" such as Stitch, created to help those over 50 find the camaraderie so vital to fending off social isolation.
Aging Americans who want to live an independent lifestyle for as long as possible are using on-demand and sharing-economy services to meet their daily needs. For example, there's Instacart, a service that provides personal grocery-shopping. He also cites the Village to Village Network, which provides volunteer assistance in communities around the country for things like light housework, home repair referrals, even organized social and educational events. It's available in several Ohio communities.
And then there are the companies that are making the aging process a meaningful experience in itself.  BMW, the German automobile and motorcycle manufacturer, made physical workplace changes to increase older workers' productivity, reduce wear and tear on their bodies, and decrease the likelihood that they would miss work. Clothing brand and retailer Chico's is breaking with traditional cultural perceptions of aging by showcasing older, on-the-go models wearing chic fashions as they lead active lives.
"The most important thing about an improved old age will be the fact that it will be good to be old," Coughlin writes.  "Old age itself is about to transform. No longer will you need a consolation prize for oldness. Far from it: you'll want to be old."
Coughlin blogs about aging, technology and innovation at Disruptive Demographics. Follow him on Twitter at @josephcoughlin.
Photo of the AGNES suit courtesy of MIT AgeLab.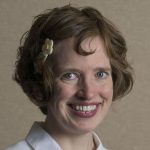 Betsy Butler is the Ohio Public Employees Retirement System's knowledge and issues strategist, researching information on pensions, retirement and health care. Betsy came to OPERS in 2009 after working as a special collections librarian for two OPERS employers: the Ohio History Connection and Miami University.