We don't really have a 'call center'
Top goal of OPERS Member Services is quality service
By Donna Castiglione, Ohio Public Employees Retirement System
Feb. 14, 2018 – We do have an 800 number (800-222-7377) and we do have employees whose job it is to answer those calls, but that is about all we have in common with a typical call center.  When you picture the typical "call center" you might imagine a warehouse-type facility with hundreds of employees packed tightly together, quickly reciting canned answers from a script.
This vision is the very reason we really shy away from referring to ourselves as a call center at the Ohio Public Employees Retirement System.  Our employees are here for one reason, to assist you by accurately answering your questions and providing you with all the information you need to make decisions.
I like to term what we do "pure customer service." We have no hidden agenda to sell you anything or just get you off the phone by giving you a quick answer. We actually don't measure our employees on the number of calls they take or how long they are on the phone with you. Instead, we evaluate them on the quality of service they provide. We encourage them to take the time to answer all your questions so you don't need to contact us for the same questions more than once.
We spend a great deal of time educating and training all of the employees in Member Services so that no matter where you ask us a question, whether it's over the phone, at a seminar, in our office or through your online account, you get the same answer. We monitor our employees' calls and provide them feedback so we are continually improving.
We might not get it right every time, but we never give up on that goal.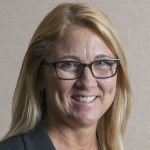 Donna Castiglione is the assistant director of Member Services and has been with the Ohio Public Employees Retirement System for more than 13 years. She has extensive experience in customer service management in a variety of industries.