We can put ourselves in your shoes
As members, OPERS employees also are affected by rule changes
By Donna Castiglione, Ohio Public Employees Retirement System
Oct. 10, 2018 – When we say we can understand where you are coming from, we're not just giving you lip service. We really can.
As Ohio Public Employees Retirement System employees, we also are OPERS members. That means changes to pension benefits or health care impact us exactly the same as they do you.
Let me give you an example. In 2012, pension legislation was passed that divided our members into three retirement groups: Group A, Group B and Group C. These groups determine when you're eligible to retire and how your retirement benefit will be calculated. They also affect when you will be eligible for health care coverage through OPERS.
I personally am in Group C by 13 days and am impacted by these changes just as all the rest of you are. While I wish my birthday were 13 days earlier, I do understand that there has to be a line, and there will always be someone who is just on the other side of it.
Being an OPERS employee and member, I also am grateful that we were able to make the changes we did to secure retirement benefits for all members. In addition to being members, many OPERS employees have relatives who are members or retirees of OPERS. If not, some of us have parents or grandparents who are dealing with planning for retirement.
OPERS employees try to treat everyone who we interact with just as we would hope someone would treat us or one of our relatives. We are proud of what we do and grateful for the opportunity to assist you.
I hope that comes across in the service you receive from us.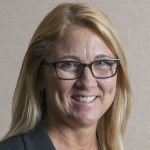 Donna Castiglione is the assistant director of Member Services and has been with the Ohio Public Employees Retirement System for more than 13 years. She has extensive experience in customer service management in a variety of industries.