Under the surface of the U.S. economy
OPERS economist: Things aren't as rosy as they might seem
By Michael Pramik, Ohio Public Employees Retirement System
Oct. 31, 2018 – Some believe that because the United States is in an economic expansion, and because the stock market is booming, that proposed OPERS plan design changes are unnecessary, too soon or too drastic.
One reader commented to the PERSpective blog recently, "The rate of investment return over the past 5 years makes (freezing a health care allowance) unnecessary."
OPERS doesn't make changes in one year based on market performance. We've talked about that quite a bit in the seven-plus years that PERSpective has been published.
But even if that were the case, what's the true state of the economy today? Nick Kotsonis, a senior fixed income analyst and economist with the OPERS investment team, said recently that the economy might not be as robust as it appears on the surface. Let's take a look why:
There is no doubt that the stock market is on an extended bull run. In the century-and-a-half from 1855 to 2007, U.S. economic expansions lasted an average of 39 months – nearly 60 months on average during the post-WWII era.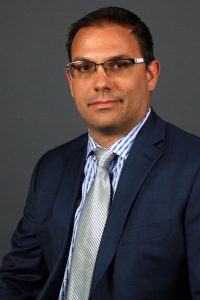 In November the U.S. economy will enter its 113th month of economic expansion since the prior recession ended in June 2009. That puts the current U.S. economic expansion as the second-longest in history, just seven months short of the record set in the 1990s.
However, while we have been fortunate to experience a very long and recession-free economic expansion, real (inflation-adjusted) GDP growth also has been the weakest in the post-WWII era. It has averaged only 2.2 percent since 2009, compared to an average growth rate of 4.6 percent during economic expansions since 1948.
Why has our economic growth underperformed so significantly during this cycle? It comes down to labor force growth and worker productivity, the building blocks of long-run GDP growth. Both variables have been severely depressed since the 2008 financial crisis.
The labor force participation rate is the number of people employed or actively looking for work, and the government measures this growth every year. From 1950-2007, it averaged 1.6 percent growth annually. We can infer from this that, without any assistance from productivity growth, the U.S. economy for decades could achieve a minimum of 1.6% annual GDP growth from demographics alone. However, since the Great Recession in 2008, annual labor force growth has averaged only 0.5 percent.
Therefore, we have lost more than 1 percent of potential GDP growth compared to prior periods just from an ageing labor force and declining labor force participation rates.  The outlook for labor force growth is also not bright as the Congressional Budget Office projects, only 0.6 percent annual growth over the next five years. This projection is not overly controversial because demographic trends are not highly volatile in the short run. A more-important economic variable is productivity growth, or the measured output of the workforce. It's driven by such things as labor efficiencies, technological change, returns to scale, labor composition, reallocation of resources and capital spending. Countries that achieve growth by labor force or population gains, rather than by better productivity, typically do not experience an improving standard of living.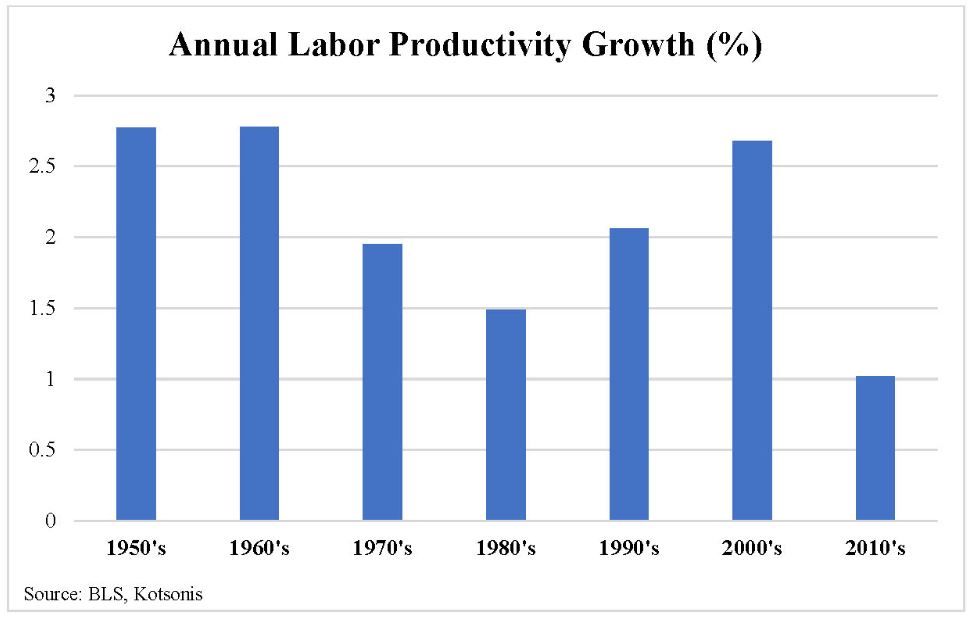 Former Federal Reserve Chair Janet Yellen summed up this situation perfectly in a speech she delivered in January 2017: "This productivity slowdown matters enormously. With productivity growth of 2 percent a year, the average standard of living will double roughly every 35 years. That means our children can reasonably hope to be better off economically than we are now.
"But productivity growth of 1 percent a year means the average standard of living will double only every 70 years."
Productivity is sagging because production growth during this business cycle has not kept pace with employment growth or hours worked across the labor force. One reason is that capital equipment spending has been weak since the 2008 financial crisis.
Unfortunately, productivity cycles tend to move in long, 20-to 25-year cycles, and we are in the 14th year of a downturn. While productivity growth will likely not remain weak forever, for our trend GDP growth to move back to a more normal 3.5 percent to 4 percent annual rate, we will need productivity growth to more than triple from current levels.
Given that productivity growth has never doubled over a preceding 10-year period since the 1950's we have a difficult road ahead of us in terms of returning to an economic growth trend we were all once accustomed to.