Pew Center tracks pension data
Interactive site allows users to analyze state fiscal information
By Betsy Butler, Ohio Public Employees Retirement System
Jan. 3, 2019 – Industries analyze data and tell compelling stories with the information to create better products, deliver enhanced services and even identify those at risk for chronic disease.
In the public pension industry, data is used to rank plans, giving an informative picture of the current state of pension funds.
For instance, data stewards like the U.S. Census Bureau and the State & Local Public Plans Database, administered by the Center for Retirement Research at Boston College and the Center for State and Local Government Excellence, develop comprehensive data on state and local pensions and retiree health benefits. Data for myriad variables, available in annual financial reports and actuarial valuations, are frequently updated and validated to create comparative analyses.
We can use these tools to benchmark plans' assumptions, funding methods, actuarial costs, asset valuations, discount rates and amortization periods.
Recently, the Pew Charitable Trusts shared the data it has collected on state public pensions through a new interactive tool. Users can track plans' fiscal health, progress in reducing unfunded liabilities, investment of assets, recent investment returns and funding levels for state-sponsored retiree health benefits. An indicators section ranks the plans on more than 30 measures.
State profiles provide a snapshot of public plans by geographic location, while a side-by-side comparison feature allows users to compare performance measures for up to three states in any year, back to 2003. A dynamic timeline provides for analysis of how funding behavior has impacted a plan's fiscal health. Information will be updated annually as comprehensive data becomes available.
Ohio-specific data in the Pew's tool combines information about the State Teachers Retirement System of Ohio, the Ohio State Highway Patrol Retirement System, and OPERS. Our fund's information reasonably matches our Jan. 1, 2017, valuation results.
For the measures that reflect a plan's funding strength and weakness, OPERS was markedly better than the other Ohio systems and pulled up the combined Ohio totals, our in-house actuary concluded. Overall, Ohio outperforms the national average on all measures. OPERS, on its own, far outperforms the national averages.
| | OPERS | STRS | SHPRS | Average | National average |
| --- | --- | --- | --- | --- | --- |
| Funded ratio | 77% | 67% | 63% | 72% | 65% |
| Net amortization | 93% | 90% | 75% | 91% | 85% |
| Net amortization/pay | -1.0% | -1.6% | -7.9% | -1.3% | -2.5% |
Furthermore, Pew considers a net amortization percentage of 100 percent or higher favorable and net amortization/payroll of zero percent or higher favorable. OPERS is very close to these thresholds on both measures.
Ranking public plans can lead to interesting content – whether in a creative research report, a thought-provoking conference conversation, or in a popular news story. When data is used clearly and effectively – and especially through partnering with the organizations producing that data – rankings show how plans are proactively avoiding or resolving issues. That's why data is such an important part of telling an accurate story about public pensions.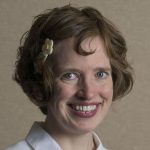 Betsy Butler is the Ohio Public Employees Retirement System's knowledge and issues strategist, researching information on pensions, retirement and health care. Betsy came to OPERS in 2009 after working as a special collections librarian for two OPERS employers: the Ohio History Connection and Miami University.