Member Services caps helpful year
Statistics show vast improvement in percentage of calls answered
By Donna Castiglione, Ohio Public Employees Retirement System
Jan. 8, 2019 – OPERS' Member Services department is the place for our members to gain information about their accounts and answers to their questions about pensions and health care.
Member Services employees assist our more than 1 million members with their individual accounts, retirement and health care, and many other issues. Last year was no exception. Here are some examples of the many ways our Member Services associates helped you in 2018:
We answered 399,580 calls, significantly improving our abandonment rate to less than 5 percent. Callers used our Virtual Hold option, which allows members to hang up and receive a call from OPERS when it's their turn in line, more than 105,000 times.
We conducted interviews with more than 14,000 members and retirees.
We helped more than 2,900 people at the front desk of our downtown Columbus headquarters.
We responded to 11,666 online account messages.
We educated more than 35,000 members through in-person presentations and online webinars.
Participants viewed recorded presentations of our seminars nearly 20,000 times.
We ran 41,904 estimates of benefits for members.
If you have a question or need some help from our Member Services staff, please call us at 800-222-7377.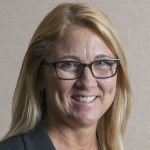 Donna Castiglione is the assistant director of Member Services and has been with the Ohio Public Employees Retirement System for more than 13 years. She has extensive experience in customer service management in a variety of industries.