OPERS offers choices when it comes to receiving pension benefits
By Michael Pramik, Ohio Public Employees Retirement System
April 30, 2019 – We receive good feedback from members and retirees when we post a blog. Sometimes we think the questions should be answered so all our stakeholders can be informed.
Thus, periodically we use the PERSpective blog to answer some of those questions that we think will have widespread interest.
Q: I'm age 65 and working full-time, still covered by OPERS. I have less than 15 years in the system, however, and I'd like to know what my options are for retirement. When I do retire, can I roll over my OPERS account into an IRA? Or do I have to take a pension?
A: Your retirement payout options can be summarized into three main options, regardless of whether you're enrolled in our Traditional, Member-Directed or Combined pension plan: Take the entire amount as a lifetime annuity, take part of your account as a lump sum and the remainder as a lifetime annuity, or refund your entire account.
If you choose to take the entire amount as a lifetime annuity, the benefit is payable for your lifetime. There are three payment plans available: the single life plan, the joint life plan or the multiple life plan. The joint or multiple life plans might be attractive if there's someone you want to leave a monthly benefit to after your death.
If you choose to take part of your account as a lump sum payment, you can still access the same lifetime annuity payment plans. However, your monthly benefit from the remainder will be lower. In the Traditional and Combined plans, this is referred to as a partial lump sum option payment, or PLOP. In the Member-Directed Plan, you choose the percentage of your final account balance you want to annuitize, so the remaining percentage can be taken as a lump sum.
If the lifetime annuity is not for you, you always have the option of refunding your entire vested account. Two months must pass after your termination of employment before your refund could be issued.
If you choose to take part of your account as a lump sum or refund your account, you do have options to roll over some or part of the lump sum into another retirement account, which could reduce or delay the tax liability from the lump sum.
If you're eligible for a monthly benefit but are considering refunding your account, we highly recommend that you call us or come to our office and speak with a counselor. You can set up that appointment via your online account, or by calling us at 800-222-7377.
Q: I will be winding down my OPERS-covered employment in the next few years to retire, but I'd like to keep working a bit in an OPERS job after I retire if possible. How can I find what jobs in the state are covered by OPERS?
A: We have about 3,700 employers across Ohio, so there are a multitude of jobs that qualify. The best way to see a list is to use the employer search feature on the OPERS website.
You can search by name, address or type of employer. It's possible to narrow the searches by city, county or classification, such as state, college or municipal.
You also can download the entire list of employers in pdf or Excel format.
Keep in mind that as an OPERS re-employed retiree, your health care coverage will be affected. To see how, check out the re-employment section of the OPERS website.
Q: I have more than 21 years of service in OPERS, but I'd like to move to another state. Can I leave my funds intact and collect a monthly retirement in the future? Or will I forfeit the amount my employer has paid in?
A: You certainly can leave your account with OPERS. We have hundreds of thousands such accounts. When you've reached the appropriate age for retirement, you can then collect your pension. Know that it's also possible to purchase credit for service you've performed in another state that would have been covered by an Ohio state retirement system. Read our Service Credit and Contributing Months leaflet for more information.
It's also possible to refund your account, if you'd like. You'll be eligible to receive your vested account balance plus interest, which may include an additional amount depending on your retirement plan and years of service."
It's also possible to refund your account, if you'd like. We have a section of the OPERS website dedicated to information on this option. This section of our website helps answer the question, "Can I leave my money with OPERS?"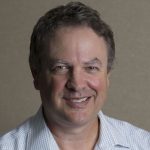 Michael Pramik is communication strategist for the Ohio Public Employees Retirement System and editor of the PERSpective blog. As an experienced business journalist, he clarifies complex pension policies and helps members make smart choices to secure their retirement.