Retirement conference stresses saving early
Author recommends universal savings accounts to build up nest eggs
By Betsy Butler, Ohio Public Employees Retirement System
May 22, 2019 – Ferreting out that grey literature I curate unearths all sorts of facts, but my favorite finds are those buried in the content of webcasts. Cost-effective and efficient, they allow me to tune in live to industry conferences, interact with presenters in real time, download related materials and watch archived recordings of the proceedings later, all from my desk at OPERS.
The National Institute on Retirement Security's annual Retirement Policy Conference's webcast is one I never miss. Distinguished policymakers, thought-leaders and industry practitioners convene to discuss and offer possible solutions to important questions related to retirement readiness, financial security, the economy and the political landscape.
During this year's program, I pondered the value of a good retirement plan, dealing with an aging society, workforce implications of retirement benefits, what Americans think about retirement, the value of long-term pension investing and how doing better today can improve retirement prospects.
What particularly captured my interest were the questions panelist Robert Friedman posed. How can we be better resourced for life? And how can we ensure that we have the resources to live the life we want to live? (Friedman's comments begin at 3:41:30 of this year's conference.)
Friedman is the founder and chair emeritus of Prosperity Now, a national economic development nonprofit dedicated to enlarging economic participation and prosperity for all. He explains more in his recent book, "A Few Thousand Dollars: Sparking Prosperity for Everyone."
In it, he relates that the majority of Americans lack the savings necessary to survive a temporary misfortune, such as an unexpected illness, a job loss, or an accident, let alone a modest reserve that would allow them to plan for the future.
A nest egg of a few thousand dollars would allow every American to have a real economic future, whether as an educated worker, homeowner, saver, investor or entrepreneur, Friedman suggests. It could be made possible by wealth-building tax incentives, leading to a better economy and a stronger country for everyone.
For example, a universal savings account would offer a refundable federal tax incentive, while a "prosperity account" would offer earned savings matches for discretionary investments such as a down payment on a house, going to college or starting a business. A Child Development Account, a lifetime savings and investment account seeded at birth and then added to through deposits for achievements like graduation, earmarks funds for postsecondary education first, then for homeownership, retirement and even bequests to the next generation. A Home Account with matching incentives would fund home buying, repair or improvement, with rollover provisions in the event of hardship, while a Matched Business Account, added to existing retirement accounts or through reporting on individual tax returns, would allow aspiring entrepreneurs to grow their nest eggs more quickly.
At the NIRS policy conference, Friedman highlighted "Five Ways of Investing in the Common Genius," one of the book's illustrations.  The best economic policies in our history have been investments in the common genius, he observed. Universal public education, the Homestead Act, the 20th century home market, the G.I. Bill, and prosperity accounts result in skilled workers being better off.
Friedman also related one of his compelling "prosperity stories" of more than 20 "economic heroes" who started with nothing and are living their dreams, realizing what he sees as the promise of America. Through the experiences of LC, a woman who received an Individual Development Account (a matched savings account used for education, home and business savings goals) and graduated from college debt-free, Friedman observes that retirement security begins at birth, and birth is not too early to start saving a nest egg. People save for things that are reasonably near ahead – such as obtaining an education or establishing a business – and these savings goals are the way to retirement security.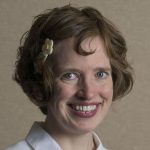 Betsy Butler is the Ohio Public Employees Retirement System's knowledge and issues strategist, researching information on pensions, retirement and health care. Betsy came to OPERS in 2009 after working as a special collections librarian for two OPERS employers: the Ohio History Connection and Miami University.