A look at the history of U.S. pensions
Like the founding of our country, they date to the Revolutionary War
By Betsy Butler, Ohio Public Employees Retirement System
July 2, 2019 – This week marks the anniversary of the founding of our country. Everybody knows what the Fourth of July is about.
Fewer realize that pensions in the United States actually date back to this formative time. After the Revolutionary War, the Continental Congress designed pensions to provide replacement income for soldiers injured in battle, to offer performance incentives, to attract new recruits and to arrange for orderly retirements.
In case you encounter people who think the concept of pensions is a 20th-century invention, let's take a look at how they evolved.
The first pensions can be traced to the days of Julius Caesar, in the form of a land grant or a special appointment given to Roman veterans and commanders after a successful military campaign. That's how they started here in the United States soon after the founding of our country – related to military service.
While the U.S. Army's pension plan was financed on a pay-as-you-go basis from general revenues, the U.S. Navy's plan was financed with money from the sale of captured prizes, such as war ships or contraband. To keep troops engaged, the U.S. Congress authorized the payment of a life annuity to all officers who stayed in the service for the duration of the war.
These military pension plans evolved into retirement plans that offered deferred compensation of increasing value for soldiers who had endured low wages and infrequent payments; generous benefits, including those awarded both to soldiers unable to work as a result of injuries sustained during their military service and to dependents of deceased veterans; and funding through investments in a range of assets and prizes, which were substantial during the Civil War.
During the late 19th and early 20th centuries, retirement plans were extended to state workers. Deferred benefits tied to longevity were designed to profit both employers — through reduced turnover costs and orderly retirement of older workers — and employees, through an increased lifetime income with less investment risk.
The trend arrived in Ohio in 1925, when a group of state employees planned and proposed a retirement system for state workers modeled after the Teachers Retirement System of Ohio, which was established in 1919. By 1931, this group, known as the State Employees' Beneficial Association of Ohio, had unsuccessfully sponsored a bill before the Ohio Legislature.
The next time around, however, with the help of Representative Charles S. Best of Columbus and Senator William P. Haynes of Coshocton, the bill was passed into law. The Ohio Retirement Act was passed by the 90th General Assembly in 1933 and signed into law June 30 of that year by Gov. George White. It became effective Jan. 1, 1935.
At first, membership was limited to about 6,000 state employees, who started making deposits into the system in 1935. Contributions by state employers followed in 1937. In 1938, the legislature expanded system membership to include employees of counties, municipalities, public libraries and health, park, sanitary and conservancy districts. Membership grew to around 42,000 in just three years. The first retirement check in the amount of $106.07 was sent out on Jan. 31, 1938.
Since then, OPERS has experienced many more changes in membership, volatile investment markets, complex political environments, numerous regulations, steadily increasing pension payments to beneficiaries with longer life expectancies, and rising health care costs. To appreciate our retirement system's important history, and to understand how it got to where it is today, we've been delving into our annual financial reports, statutes, actuarial valuations, member publications and other archival information. I'll be sharing what we've uncovered in future posts.
Until then, if you're interested in learning more about the history of the public-sector pension plan in our country, I recommend "A History of Public Sector Pensions in the United States," by Robert L. Clark, Lee A. Craig, and Jack W. Wilson, and "State and Local Retirement Plans in the United States," by Robert L. Clark, Lee A. Craig and John Sabelhaus.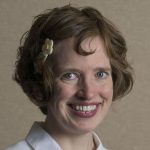 Betsy Butler is the Ohio Public Employees Retirement System's knowledge and issues strategist, researching information on pensions, retirement and health care. Betsy came to OPERS in 2009 after working as a special collections librarian for two OPERS employers: the Ohio History Connection and Miami University.