Update banking info at home
It's one of many useful tools in the OPERS online account
By Donna Castiglione, Ohio Public Employees Retirement System
Sept. 10, 2019 – One of the requests retirees often ask us to help them with is updating their banking information. For security reasons we cannot update this information over the phone. It is also important you make changes well in advance of the end of the month if you want them effective for the next month.
The most efficient method is for you to update this information yourself. Just go to your online account and follow the prompts. We used to require our members to fill out a form and mail in a voided check, which is still available but no longer the only option.
Just click on "My Profile" in the toolbar and scroll to edit the "Bank Information" page. You'll be prompted to enter your current account number, the new account number and the bank routing number. There's a feature that looks up the routing number and displays the corresponding bank name, so you can double-check your entry.
Then, just confirm if it's a checking or savings account and send us the info. If it is past the deadline to make changes for the next month the system will not allow you to make the change until after the next month's benefits are posted. If you mail a form, we may not receive it in enough time to make the change for the next month.
If you have an HRA, changes made to your OPERS banking information are not changed with your HRA account. You make those changes through your Via Benefits account.
While you're accessing your online account, you also can change items such as your address, correspondence preferences, phone number and email address, as well as passwords and privacy questions.
If you don't already have an online account, just go to our website home page, click on the "Account Login" box at the top-right corner, and follow the prompts.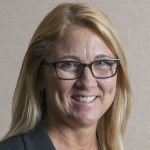 Donna Castiglione is the assistant director of Member Services and has been with the Ohio Public Employees Retirement System for more than 13 years. She has extensive experience in customer service management in a variety of industries.