OPERS remains high-service pension provider
CEM Benchmarking report also cites relatively low investment costs
By Michael Pramik, Ohio Public Employees Retirement System
Nov. 21, 2019 – OPERS is a low-cost, high-service provider of pension benefits, said a third-party consultant that benchmarks the pension industry.
OPERS' cost and service levels also compare favorably to other public pension funds in our peer group, said CEM Benchmarking, which provides independent information for asset owners that include pension funds, endowments and foundations.
OPERS participates in an annual CEM survey to measure and benchmark our investment and benefits activities including cost, service levels and organizational performance. CEM presented its results for the 2018 fiscal year this week at the November Board of Trustees meeting.
The custom peer group measuring pension administration included 14 public pension funds with an average membership of 935,000. OPERS' membership is 1.15 million.
OPERS' total pension administration cost of $57 per member was well below the peer average of $74 and was just below the peer median of $59, CEM said. The lower-cost structure was primarily because of our lower employee count. OPERS has 1.8 front-office, full-time-equivalent positions per 10,000 members, while the peer average is 2.7 such positions.
CEM said OPERS spends $17 per member, compared with a peer average of $29 per member, to administer pensions. CEM describes front-office staff as those conducting member transactions, communication, collections and data maintenance.
CEM said OPERS' communication programs and online capabilities have reduced overall transactions required by our members, which led to a savings of $8 per member transaction.
"OPERS is quite low-cost relative to your peers," CEM Benchmarking Principal Mike Heale told trustees.
Meanwhile, OPERS produced better service than the peer average, with a total service score of 87 that was well above the median service score of 77, CEM said. That score improved by four percentage points from 2015 to 2018, during which time we increased staffing levels in our Member Services department and made efficiency improvements that positively impacted call outcomes.
CEM defines higher service levels as providing more outreach channels, faster turnaround times, more availability, more choice, better communication content and higher overall quality.
For instance, CEM said our average total wait time for member contacts was 82 seconds, compared to a peer average of 380 seconds. The OPERS website provides 18 tools that members can access online, compared to 14 for the average peer.
CEM also reviewed our investment practices, the results of which we'll present in an upcoming blog post.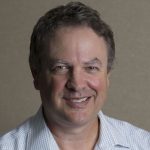 Michael Pramik is communication strategist for the Ohio Public Employees Retirement System and editor of the PERSpective blog. As an experienced business journalist, he clarifies complex pension policies and helps members make smart choices to secure their retirement.