Investment cost control draws praise
CEM Benchmarking report also cites added value of in-house team
By Michael Pramik, Ohio Public Employees Retirement System
Dec. 4, 2019 – OPERS' investment staff provides added value to its portfolios by managing much of its own investments and has significantly cut investment fees, said CEM Benchmarking, a third-party consultant that tracks the pension industry.
CEM, which provides independent information for asset owners that include pension funds, endowments and foundations, pointed out that OPERS' active investing strategies have provided $2.5 billion in added value over the past five years. Adjusting for fund size and asset mix, OPERS' total investment cost was $59 million less than the CEM peer median cost.
CEM presented its results for the 2018 fiscal year survey at the November Board of Trustees meeting.
CEM's investment benchmarking survey included an examination of total policy return and asset allocation differences, the net value-added provided by OPERS staff, total investment costs vs. the relative benchmark, and total investment portfolio risk.
The report compared OPERS' cost and return performance to 323 funds in the CEM database and compared those metrics to a peer group of 15 pension funds with a median size of $97.8 billion, about the size of OPERS.
Net return was broken down into two portions: policy return, which is the return we would have earned if we had invested in "passive" index funds, and the value added by OPERS staff decisions.
OPERS' total five-year net return of 5.4 percent equaled the U.S. public pension fund median return during that period. More importantly, OPERS provided 0.4 percent of added value (beyond the peer median active return of -0.1 percent) by actively managing a portion of the portfolio, which translates to $2.5 billion above market returns for that period.
OPERS also checked in favorably as a low-cost investment provider, as noted above. CEM said our costs have gone down because we're paying lower management and performance fees for hedge funds, real estate and private equity. For instance, we paid nearly $17 million less in 2018 in hedge fund fees than did our peers.
We've also increased our use of passive index funds and internal management – from 35 percent of assets in 2014 to 42 percent in 2018 – actions that have contributed to the lower cost structure.
CEM said OPERS' asset risk score of 10.4 percent compared favorably to our peer group's median of 10.5 percent. Asset risk is defined as the standard deviation of the policy return.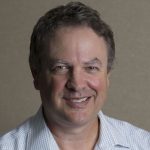 Michael Pramik is communication strategist for the Ohio Public Employees Retirement System and editor of the PERSpective blog. As an experienced business journalist, he clarifies complex pension policies and helps members make smart choices to secure their retirement.