Financial reports chart progress
OPERS' CAFR, PAFR focus on the future of your pension system
By Michael Pramik, Ohio Public Employees Retirement System
Sept. 29, 2020 – OPERS' annual financial reports provide a detailed look at our financial, investment, actuarial and demographic details, providing transparency in the management of your pension system.
The latest Comprehensive Annual Financial Report, and the abbreviated Popular Annual Financial Report, are always available on our website for members and stakeholders to review. The current reports marked a year "of significant progress" in 2019, when investment returns were strong and OPERS initiated a strategy to set the system's course for the next decade.
This course includes reducing the number of our retirement plans to two – the Traditional Pension Plan and the Member-Directed Plan – as well as changing the way we deliver health care coverage effective 2022.
Here's some of the information you'll discover about OPERS in the 2019 CAFR:
OPERS had a net position of $106.3 billion at the end of 2019.
The system's funded status at yearend was 79.5 percent.
We are able to pay off our unfunded liabilities within 23 years, 7 years sooner than mandated by Ohio law.
Health care expenses in 2019 were $767.9 million.
The OPERS defined benefit investment portfolio returned 17.23 percent for the year; the health care portfolio returned 19.59 percent; the defined contribution portfolio returned 21.74 percent.
In 2019, member and employer contributions in all our pension plans totaled $3.6 billion, compared with net income from investing activity of $16.1 billion.
Of the 304,446 active members in our system, 94.1 percent have chosen the defined benefit plan, 3.4 percent the defined contribution plan and 2.5 percent the hybrid plan.
Life expectancy for OPERS members is 88 years for women and 85 for men.
Of the 214,963 retirees in OPERS, 89.2 percent remained Ohio residents as of Dec. 31, 2019.
OPERS made $6.3 billion in pension benefit payments, primarily to Ohio residents.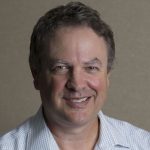 Michael Pramik is communication strategist for the Ohio Public Employees Retirement System and editor of the PERSpective blog. As an experienced business journalist, he clarifies complex pension policies and helps members make smart choices to secure their retirement.