Individual health care market strong in Ohio
Expert says Supreme Court case not likely to disrupt current coverage
By Michael Pramik, Ohio Public Employees Retirement System
Dec. 10, 2020 – A strong individual marketplace for health care exists in Ohio, a health care policy expert recently told OPERS trustees.
John Barkett, Senior Director of Policy Affairs for Willis Towers Watson Via Benefits, provided an overview of the marketplace and other health care issues at the November Board of Trustees meeting. It was in preparation for 2022, when the OPERS group plan will terminate and our Pre-Medicare retirees will enroll in a marketplace plan.
OPERS will provide these retirees a Health Reimbursement Arrangement (HRA) in which funds will be contributed, allowing the retirees to seek reimbursement for qualified medical expenses.
Barkett said the Ohio insurance marketplace has stabilized and will strengthen next year as premiums drop and carriers expand their offerings. There are currently nine insurers in the Ohio market, compared to a U.S. average of 5.4 per state. The carriers define their territories by county, and 95 percent of Ohio residents have access to three or more carriers. Competition is increasing, which will lead to a better environment for consumers.
He said the plans must cover "Essential Health Benefits" that include hospitalization, emergency services, prescription drugs, rehabilitative services and preventive and wellness services.
Barkett also addressed the current Affordable Care Act challenge before the U.S. Supreme Court. In the case California vs. Texas, the court is deciding whether a coalition of states and citizens have standing to challenge the act, whether the individual mandate to purchase health care coverage is constitutional and whether the mandate can be severed from the rest of the act and ruled on separately.
Barkett believes the case is not likely to disrupt the individual market, meaning OPERS retirees should not face the threat of losing coverage for pre-existing conditions, or having pre-existing conditions precluded from coverage, in the future.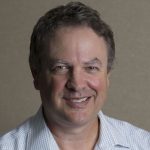 Michael Pramik is communication strategist for the Ohio Public Employees Retirement System and editor of the PERSpective blog. As an experienced business journalist, he clarifies complex pension policies and helps members make smart choices to secure their retirement.