Investments post double-digit gains
OPERS portfolios rebound in fourth quarter, finish year strong
By Michael Pramik, Ohio Public Employees Retirement System
Feb. 24, 2021 – The Ohio Public Employees Retirement System posted double-digit investment returns in 2020, topping our assumed return rate in both the Defined Benefit and Health Care funds.
The OPERS Defined Benefit Fund returned 12.02 percent last year, compared to the target return of 7.2 percent. The Health Care Fund increased by 10.96 percent, compared to the target return of 6.0 percent.
Four asset classes led the strong absolute returns: U.S. Equities, Non-U.S. Equities, Private Equity and Treasury Inflation Protected Securities, commonly referred to as TIPS. Other bonds also had a strong year, as core fixed income securities returned more than 9 percent, and U.S. Treasuries topped 8 percent for the year.
Consultant Tim McCusker, of NEPC, said at the January Board of Trustees meeting that 2020 will go down as one of the most-volatile investing years in history because of the COVID-19 pandemic. For example, the S&P 500 index fell 34 percent from its Feb. 19 peak, then staged a recovery, gaining more than 50 percent from its low on March 23. The Dow Jones Industrial Average made a similar rebound, rising 53 percent from its low during the first quarter.
OPERS' Investments division oversees a Defined Benefit Fund of $98.4 billion and a Health Care Fund of $13.4 billion. We use these funds to pay our members' pension benefits and provide retirees access to health care coverage.
We sometimes receive questions about the benefits we pay relative to good investment returns in any given year. OPERS invests with a long-term time horizon – a period of decades, not years. Because of this outlook, OPERS doesn't overreact to short-term fluctuations in the financial markets.
Because of its dramatic swings, the 2020 investment year won't be easy to forget. Yet for institutional investors such as OPERS, it remains only one lap in a marathon designed to provide retirement security for our members.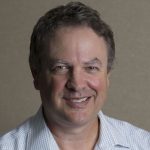 Michael Pramik is communication strategist for the Ohio Public Employees Retirement System and editor of the PERSpective blog. As an experienced business journalist, he clarifies complex pension policies and helps members make smart choices to secure their retirement.