OPERS to pay COLAs in 2022
We'll continue to seek 2-year freeze for wellbeing of your pension fund
By Michael Pramik, Ohio Public Employees Retirement System
July 13, 2021 — As most of you know, two years ago the OPERS Board of Trustees approved a plan to improve the long-term funding of your pension system, a goal that all well-run funds strive to achieve.
This path toward full funding had several facets, including combining two of our retirement plans, creating a new benefit tier for future hires, and modifying our health care program.
One major aspect of that plan was to freeze retirees' cost-of-living adjustments for a two-year period, beginning in 2022. That single action (in conjunction with the other component of the proposal that would impact active members) would reduce our unfunded liability by about $3 billion from an unfunded liability of more than $20 billion at the time the proposal was created.
As part of our ongoing effort to keep members informed, we traveled all over the state of Ohio and shared the details of the plan and the rationale for the actions. We found most retirees and members appreciated the explanation and were willing to accept the proposed freeze. While it would significantly improve the long-term funding of our pension system, we couldn't make the changes without seeking legislation. Any change to the OPERS plan design (including COLA changes) requires approval by the Ohio legislature, which is why we initiated discussions with legislators.
For several reasons, including the pandemic crisis being a top priority for legislators since early last year, we have not achieved the necessary legislation that would allow us to make the proposed COLA changes.
We'd like to let members know that while we still must seek the COLA freeze for the future wellbeing of our fund, the COLA freeze will NOT occur next year. OPERS retirees will receive their cost-of-living adjustment in 2022, under the same format as this year: a 3 percent COLA for those with a retirement effective date before Jan. 7, 2013, and an adjustment that tracks the Consumer Price Index (capped at 3 percent) for those with a retirement effective date on or after that date.
We will announce next year's inflation-based COLA later this summer. According to state law, this amount must be based on the change in the CPI-W index from the end of June 2020 to the end of June this year.
OPERS is grateful for the good investment returns we have earned over the past two years. However, even with the good investment returns, our rationale for COLA legislation is as valid today as it was when the COLA proposal was approved in 2017: to reduce our debt. Our Defined Benefit Fund currently has an unfunded actuarial accrued liability of $19.4 billion. This debt becomes increasingly difficult to pay off as the number of active members continues to decline.
Overall, the COLA proposal would reduce the debt by about $3 billion, or 15 percent. The COLA proposal includes several parts. In addition to freezing the COLA for two years for retirees, the current proposal will also impact active members by extending the time it will take future retirees to receive their initial COLA, to 24 months instead of 12 months. This delayed start to the COLA for current active members accounts for about half of the overall savings of the COLA proposal.
The temporary COLA freeze is important, because COLAs account for 25 percent of the total annual pension payments we pay to our members. OPERS paid $6.5 billion in pension payments and another $725 million in health care payments in 2020.
The proposed freeze is a strong step forward to reducing the debt and the time it takes to pay off that debt. The proposal would not impact any retiree's past COLAs as you would still receive those each month. The proposed COLA freeze would suspend the additional new COLA increases for two years.
Like other public pension funds, OPERS has experienced increasing unfunded liabilities (debt), in part because of inconsistent financial investment markets that date back to the Great Recession. OPERS' reliance on investment markets to fund the benefits continues to increase. Thus, investment market volatility has a significant impact on our funding. The investment professionals' investment market projections for the coming decades indicate much-lower returns than we've seen in the past two years. And while we know many of our members have an opinion on what they think the investment market will do over the next decade, it's probably safe to assume that no one wants to put the pension system funding at risk.
We will continue to keep you informed throughout the process. Additionally, as with all our initiatives, we would announce any change in advance to allow time to plan. We will continue working with the legislature to approve a plan that will reduce our debt and set your pension system on a better course for the future.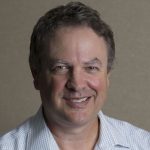 Michael Pramik is communication strategist for the Ohio Public Employees Retirement System and editor of the PERSpective blog. As an experienced business journalist, he clarifies complex pension policies and helps members make smart choices to secure their retirement.