How a breakup could affect benefits
Rising trend of 'grey divorce' may have implications for members
By Betsy Butler, Ohio Public Employees Retirement System
Aug. 4, 2021 – For more than a decade, the divorce rate for Americans over the age of 50 has been on the rise. In fact, more than half of these divorces occur among couples who have been married for more than 20 years.
Bowling Green State University researchers uncovered this demographic trend in 2012 and have been tracking the causes and implications of "gray divorce" ever since. Bill and Melinda Gates' decision to part ways after 27 years of marriage turned the trend into a hot topic. It challenges us to consider our expectations of marriage, the realities of midlife transitions and the importance of a secure future for those who stay independent after divorce.
Finding fulfillment may prompt re-evaluating a relationship, starting a new chapter in a longer life, evolving relationships with a former spouse and the potential financial challenges faced by those who stay independent after divorce as they age. After a gray divorce, the standard of living has been found to drop by 45 percent for women and by 20 percent for men. It's also harder for older people to recover from these financial changes, research finds.
Here at OPERS, associates periodically gather to learn about and discuss topics that impact or interest them. Some relate to our system's business processes and benefit structures; others focus on job competencies and enhance career development. One recent offering explored the gray divorce trend and how an OPERS retirement account may be impacted in divorce proceedings.
Under Ohio law, retirement accounts that accrue during a marriage are marital property and may be subject to division. Retirement accounts may also be subject to withholding orders for child and/or spousal support. Retirement account information will likely need to be provided to attorneys and the court. As OPERS account information is confidential under Ohio law, account information can be released only with the retirement system member's written authorization to OPERS.
When divorce/dissolution is granted, the OPERS account is addressed in the divorce/dissolution decree as part of the marital property division. If a former spouse has an interest in an OPERS account due to the marital property division, a Division of Property Order may be issued. This court order allows OPERS to make payments to a member's former spouse during the member's lifetime, when the member receives payment from an OPERS account.
In the divorce/dissolution decree and/or Separation Agreement, the court may order the member to designate the former spouse as beneficiary on a joint and survivor annuity plan of payment at retirement. The court may also order child or spousal support withholding. Divorce/dissolution/legal separation also impacts beneficiary designation on an OPERS retirement account prior to retirement.
For more information, see the OPERS Domestic Relations leaflet; the Division of Property Order form; and the OPERS Authorization: Release of Account Information form.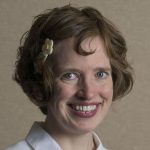 Betsy Butler is the Ohio Public Employees Retirement System's knowledge and issues strategist, researching information on pensions, retirement and health care. Betsy came to OPERS in 2009 after working as a special collections librarian for two OPERS employers: the Ohio History Connection and Miami University.