OPERS rates highly among peers
CEM Benchmarking lauds pension system's service, cost levels
By Michael Pramik, Ohio Public Employees Retirement System
Jan. 11, 2022 — OPERS is a low- to medium-cost pension administrator with high service levels compared to our peers, a benchmarking consultant told the Board of Trustees during a recent meeting.
CEM Benchmarking also reported that the OPERS Investments Division works effectively for members by paying less than its peers for similar services with a lower-cost implementation style.
OPERS participates with CEM Benchmarking each year to compare its administration and investment activities with those of a custom group of 14 peers, as well as a wider universe of 67 leading, global pension systems. CEM ranks our administrative costs, service levels and investment costs, and presents this report to the Board.
CEM Principal Mike Heale said OPERS' total pension administration cost of $55 per active member and retiree in 2020 was $22 below the peer average of $77 per client. At the same time, OPERS had a service score of 82, well above the peer median of 77.
OPERS' 5-year net total investment return was 9.9 percent, above the U.S. public pension median of 9.6 percent and equal to the peer median. Our investment costs of 43.3 basis points (or 0.433 percent) was below our benchmark cost of 47.1 basis points (or 0.471 percent).
"We found that OPERS paid less for its external management program," Heale said. "It had lower implementation costs that are going down, mainly because of a shift to a lower-cost asset mix."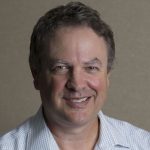 Michael Pramik is communication strategist for the Ohio Public Employees Retirement System and editor of the PERSpective blog. As an experienced business journalist, he clarifies complex pension policies and helps members make smart choices to secure their retirement.