Investment return tops 15% in 2021
Defined Benefit, Health Care funds exceed their policy benchmarks
By Michael Pramik, Ohio Public Employees Retirement System
March 9, 2022 — The Ohio Public Employees Retirement System's Defined Benefit Fund increased 15.3 percent in 2021 while the Health Care Fund was up 14.3 percent, Board of Trustees consultant NEPC said at the February Board meeting. These returns are based on a calendar year fiscal return and reflect results from the period Jan. 1, 2021, through Dec. 31, 2021.
The Defined Benefit Fund ended the year at $109.3 billion. The 15.3 percent return outperformed our policy benchmark by 0.06 percent, or six basis points, for the year. The annualized total return is 14.9 percent for the past three years, 11.4 percent for five years and 10.1 percent for 10 years, beating our policy benchmark return for all periods.
For the fourth quarter of 2021 the DB Fund returned 5.1 percent, outperforming the 4.2 percent benchmark and ranking among the top-performing plans compared with our peers.
Leading the strong performance last year were Private Equity, up 44.8 percent; U.S. Equities, up 26.3 percent; and Real Estate, up 17 percent.
The Health Care Fund finished 2021 at $14.5 billion. The 14.3 percent return exceeded the policy benchmark by 0.58 percent, or 58 basis points. The fund's annualized total return is 14.9 percent over three years, 10.5 percent over five years and 8.7 percent over 10 years. All those returns exceeded the policy benchmarks.
The Health Care Fund returned 4.5 percent in the fourth quarter, beating the 4.3 percent return of the benchmark.
The Health Care Fund has a different asset allocation, which takes into account higher liquidity needs relative to the total fund asset balance, and a reduced risk profile due to the expected solvency period of the fund. Thus, returns for the Health Care Fund will differ from the Defined Benefit Fund based on the performance of various asset classes.
Like the Defined Benefit Fund, the Health Care Fund was bolstered by strong equity returns in 2021. While the Health Care Fund does not include Private Equity or private Real Estate, it does have a 7.3 percent allocation to Real Estate Investment Trusts (REITs), which returned 46.0 percent in 2021.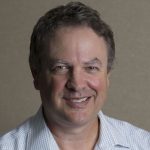 Michael Pramik is communication strategist for the Ohio Public Employees Retirement System and editor of the PERSpective blog. As an experienced business journalist, he clarifies complex pension policies and helps members make smart choices to secure their retirement.