Defined benefit plan funding improves
Funded ratio hits 84%, amortization period down to 16 years at the end of 2021
By Michael Pramik, Ohio Public Employees Retirement System
June 7, 2022 – OPERS ended 2021 with a defined benefit funded ratio of 84 percent, and the expectation to pay off its unfunded actuarial accrued liabilities in 16 years if all assumptions are met.
The funded ratio represents the ratio of our funding value of assets to our accrued liabilities. The goal is 100 percent or more. Amortization period is the time in which we're projected to pay off our unfunded accrued liabilities. Ohio state law requires that period to be 30 years or fewer.
OPERS' external actuaries, Gabriel, Roeder, Smith & Co., said at the May Board of Trustees meeting that both measures showed improvement over the previous year. At the end of 2020, OPERS' defined benefit plan's funded ratio was 82 percent, with 21 years of amortization (reflecting updated actuarial assumptions). The improved measures were driven by last year's 15.34 percent Defined Benefit Fund investment gain in combination with the continued impact from the 2013 pension changes.
GRS also presented its 50-year actuarial projections of defined benefit retirement allowances for the period beginning Jan. 1, 2022.
The projection addresses liabilities, assets and cash flows for a 50-year period. Its purpose is to highlight long-term trends and analyze potential alternative scenarios. GRS expects OPERS' funded status to increase as the unrealized investment gains noted above are phased in. However, the defined benefit plan's funding measures also could worsen if future investment returns are less than assumed.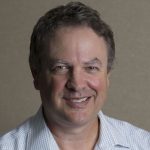 Michael Pramik is communication strategist for the Ohio Public Employees Retirement System and editor of the PERSpective blog. As an experienced business journalist, he clarifies complex pension policies and helps members make smart choices to secure their retirement.