A look at OPERS' investments, funding
Difficult year for worldwide markets affected all institutional investors
By Michael Pramik, Ohio Public Employees Retirement System
March 9, 2023 – During the January Board of Trustees meeting, OPERS Investments staff presented preliminary returns for 2022. Last year was one of the most-difficult environments in decades because of rising inflation and aggressive global central bank interest-rate hikes.
The preliminary OPERS Defined Benefit Fund return was a negative 12.1 percent, while the OPERS Health Care Fund fell by 15.5 percent. Final audited results will be posted to the OPERS website after the March trustees meeting.
Despite the Defined Benefit Fund declines, OPERS' pension funding metrics actually improved. Using the preliminary investment returns, the system's funded ratio rose to 85 percent in 2022, from 84 percent at the end of 2021. That means OPERS has 85 cents for every dollar it owes in future liabilities.
The forecasted time expected to pay off the system's unfunded actuarial accrued liabilities, defined as the amortization period, improved from 16 years to 15 years.
The reason for these improvements is that OPERS smooths its pension investment returns over a four-year period for funding purposes. OPERS had good returns in the immediate years preceding 2022, which equated to an unrecognized asset gain of $10.5 billion at the end of 2021.
However, as OPERS staff explained to the Board, we recognized only one-fourth of the 2022 investment loss this year. The system will have to recognize the remainder, about $14.8 billion, over the next three years. The net amount of these unrecognized gains/losses as of Jan. 1, 2023, is a $9.4 billion loss.
For the OPERS Health Care Plan, the primary funding metric is the estimated remaining years of solvency. The Health Care Plan solvency years declined from 29 years at the end of 2021 to 21 years at the end of 2022.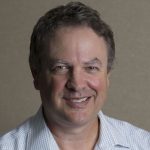 Michael Pramik is communication strategist for the Ohio Public Employees Retirement System and editor of the PERSpective blog. As an experienced business journalist, he clarifies complex pension policies and helps members make smart choices to secure their retirement.