Coping with loneliness, isolation
AARP program offers tools and tips to help retirees stay connected
By Betsy Butler, Ohio Public Employees Retirement System
Feb. 9, 2023 – In the early days of the COVID-19 pandemic, when practicing social distancing was a new phenomenon, face-to-face interaction with others was what many of us found we missed the most.
Loneliness is caused by feelings of being alone, of not having the companionship or sense of belonging that people need. Social isolation, on the other hand, is defined by having few interactions with people because of circumstances, not by choice. You can have a large social network, but if you don't feel understood or valued, or if you're not able to interact with that network regularly, that isolation can even lead to persistent feelings of fear, mistrust and anxiety.
No matter how much we enjoy the restorative benefits of occasional alone time, we're social beings, and our interactions fulfill a fundamental human need, crucial to both well-being and survival. If we're apart from others for too long, we can find ourselves in distress. Indeed, prolonged social isolation and loneliness is being seen as a public health crisis in its own right.
Chronic loneliness and social isolation pose serious health risks. They have been said to lead to health challenges such as high blood pressure, heart disease, anxiety, depression, poor cognitive function, substance abuse, sleep disorders and suicidal thoughts. They also have been found to have the same impact on mortality as heavy smoking, and they are a greater risk factor for premature death than obesity.
Loneliness can strike at any age, because of a lack or loss of interest in interacting with others. Those in a transitional phase, such as moving to a different city, starting a new job or graduating from college, are more likely to experience social isolation. Young people who miss lots of school can develop behavioral problems and poor social skills.
However, it is frequently discussed in the context of older adults, often because of leaving the workplace after retirement, losing a spouse, experiencing hearing difficulties or becoming housebound because of chronic illness.
Connect2Affect, AARP Foundation's effort to end isolation and build the social connections older adults need to thrive, has explored loneliness among adults 45 and older. It also offers tools and resources to help those feeling isolated, including an assessment you can take to determine whether you or a loved one are at risk for social isolation.
To keep feelings of loneliness or isolation at bay, fill your mind and your days with things to do. Ensure that you have a sense of purpose and direction in life. Adhere to a schedule, get plenty of sleep, eat well, exercise, develop new interests to add to your daily routine and have something to anticipate each day, like taking a walk in a metro park or going to the library. Take care of something – like a pet or even a small houseplant – particularly if you live alone. Indulge yourself in a hobby. Learn a new language. Attend a religious service or engage in a spiritual practice. Add another skill to your repertoire. Even something as simple as coloring can help.
Take steps to strengthen connections to others and address the barriers that may be causing isolation. Maintain a support network of people you trust. Identify people whom you think are resilient, or able to bounce back after adversity, and model their coping strategies. Explore volunteer and part-time job opportunities. Help people in need.
Spend time regularly with people you care about. Cultivate and maintain multi-generational friendships, especially with young people. Become a mentor. Learn the latest technology for staying in touch. Get involved in group activities. Call someone who lives alone, or who is a caregiver, to say hello and offer help with a specific task. Smile at others, begin a conversation and extend an invitation to spend time together, even if it feels difficult to do so.
Above all, take care of yourself. If you're having difficulty coping, distract yourself with other thoughts and activities, such as watching an entertaining movie, looking at beautiful works of art, listening to soothing music or reading an absorbing book. Soothe yourself with relaxation techniques, such as meditation and deep breathing. If you've suffered a major loss or life change, like the death of a loved one, talk things over with others experiencing similar situations.
And if you find yourself feeling sad more often than not, with less energy to handle everyday tasks, decreased ability to concentrate or an impaired ability to function, consider asking a health care professional for help.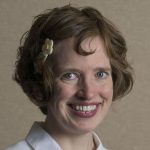 Betsy Butler is the Ohio Public Employees Retirement System's knowledge and issues strategist, researching information on pensions, retirement and health care. Betsy came to OPERS in 2009 after working as a special collections librarian for two OPERS employers: the Ohio History Connection and Miami University.