How to declutter, downsize your home
Organizing goods, weeding out possessions can improve quality of life
By Betsy Butler, Ohio Public Employees Retirement System
April 27, 2023 – Spring is here, and with it comes the intention of welcoming the season with sparkling windows, vacuumed floors, dusted surfaces and aired-out rugs.
The best part of spring cleaning may be the rejuvenating feeling that comes when it's over, but it's also an opportunity to make organization part of your daily routine. While you're at it, challenge yourself to identify some possessions that have served their purpose and are ready to move on. Open some drawers and closets and start decluttering your way to more contentment and less chaos at home.
Home is meant to be a calming oasis where we can escape from stress and work, not just a place to store stuff. To transform your home into your own unique space, consider whether what you own makes you feel happy or overwhelmed. When your surroundings are under control, you're more in control of yourself.
Decluttering experts suggest working toward a goal of having your home no more than 80 percent full, reserving at least 20 percent of available space for future acquisitions. Start simply and slowly, giving yourself plenty of time to complete your goal. Spending just ten minutes a day will help you get into the swing of things; seeing results gives you a small reward of encouragement and will make you feel more like devoting larger blocks of time to accomplish the project.
Begin by simply throwing away trash, picking up laundry and stacking dishes, just to get in the habit of tidying up daily and returning things to their intended places. Continue by cleaning out a junk drawer, going through one box, or clearing off a pile stacked on a table. Move on to throwing out expired products, whether food in your pantry or bathroom toiletries. Recycle junk mail, newspapers and magazines. Donate books to Friends of the Library sales or Little Free Libraries in the community. Contribute unwanted clothing and unused household items to thrift stores. Selling items online or through auctions is another possibility.
Decluttering also provides an opportunity to relive memories and share them with loved ones. Spend time reading saved letters, then shred them. Sort through photos and discard duplicates, blurry shots or unidentifiable subjects. Digitize remaining photographic prints by scanning or taking digital photos of them. Give special keepsakes to people whom you think would appreciate it. If you choose to let go of a cherished item, take a picture of it first so you can recall associated memories later.
While you're working, keep the momentum going by listening to music or talking to another person.
Decluttering doesn't mean you have to have fewer possessions; it just encourages you to be thoughtful about what you do own, and make your living spaces as functional and organized as possible. Create a system for handling papers as soon as they cross the threshold, saving documents according to their importance. When you keep spaces tidy and organized, you'll stay in control of clutter, and cleaning will become less overwhelming over time.
Weeding out what you own makes space for the things that really matter to you, bringing more attention to your prized possessions and helping you appreciate them more. Making these decisions not only develops self-confidence, but also can help you lead a fulfilling, simplified life.
For more decluttering tips, read:
"The Declutter Challenge: A Guided Journal for Getting Your Home Organized in 30 Quick Steps," by Cassandra Aarssen
"Marie Kondo's Kurashi at Home: How to Organize Your Space and Achieve Your Ideal Life," by Marie Kondo
"Make Space for Happiness: How to Stop Attracting Clutter and Start Magnetizing the Life You Want," by Tracy McCubbin
"Keep the Memories, Lose the Stuff: Declutter, Downsize, and Move Forward with Your Life," by Matt Paxton, with Jordan Michael Smith
"The Home Life: The No-Guilt Guide to Owning What You Want and Organizing Everything," by Clea Shearer and Joanna Teplin
"Organizing for the Rest of Us: 100 Realistic Strategies to Keep Any House Under Control," by Dana K. White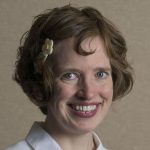 Betsy Butler is the Ohio Public Employees Retirement System's knowledge and issues strategist, researching information on pensions, retirement and health care. Betsy came to OPERS in 2009 after working as a special collections librarian for two OPERS employers: the Ohio History Connection and Miami University.