How to stay on the road as you age
It's important to evaluate your driving skills and take steps to improve them
By Betsy Butler, Ohio Public Employees Retirement System
July 27, 2023 – Is the key to your vehicle one of your most prized possessions? Young and older drivers alike cherish it because of the independence it represents.
Holding on to those feelings of freedom can motivate aging drivers to explore ways to stay on the road longer and more safely. Taking a driver safety course is one of those resources.
What you learn will help you drive with increased confidence, adapt to changes that may affect your ability to drive and evaluate your driving to determine when it may be time to limit your time behind the wheel and explore other transportation options.
Our driving can be affected by medical conditions, medications, alcohol and drugs, and changes in our vision, hearing and cognition. We need to pay special attention to these factors as we age. As our bodies tend to slow down, medication side effects and interactions can become more pronounced or take longer to wear off. Reaction time also slows with age and when we are fatigued or drowsy. Be alert to both obvious and subtle changes impacting your ability to recognize and react to potentially dangerous situations while driving. Every time you get behind the wheel, ask yourself, "Am I fit to drive today?"
Driving involves our whole body, whether turning our neck and torso to make turns or back up, using our arms, wrists and fingers for steering, and employing our legs and feet for braking and accelerating. That calls for flexibility. Daily walks and exercises for strength and range of motion can extend the number of years you're able to drive.
Regular vehicle maintenance is essential for a safe ride. Ensure you have a clean windshield and well-cared-for tires. To be comfortable and in control behind the wheel, adjust your head rest, steering wheel, seat, seat belt and mirrors before starting the engine.
Inside the vehicle, avoid distractions so you can stay focused on driving. Refrain from eating, drinking, smoking and operating navigation and sound systems so you can keep both hands on the wheel. Above all, don't use your cell phone while driving.
Brush up on traffic and roadway fundamentals, including traffic signs and travel lane markings. Refresh your knowledge of what to do when driving through construction zones and navigating intersections, roundabouts and highway ramps and merges. Familiarize yourself with newer roadway design features like dedicated bicycle lanes and bike boxes.
Remember what it takes to maintain a safe stopping and following distance, and how to communicate with other drivers through operating your vehicle's turn signals, headlights and horn. Recall how to respond to challenging conditions such as driving at night, in the rain, snow, ice and fog, and encountering flooded roadways. Be informed about how to respond to breakdowns and collisions with other vehicles, or even with deer or other animals. Consider reviewing state-specific driving information, such as the Ohio Digest of Motor Vehicle Laws, to be even more informed.
Every time you drive, you're assuming tremendous responsibility for yourself and others.
Be honest with yourself about your abilities, take them seriously and adjust your driving accordingly. For example, if night driving is a concern, participate in daytime instead of evening activities, or seek ridesharing opportunities. Signs that it may be time to limit or stop driving include experiencing frequent close calls; sustaining mild fender-benders, dents or scrapes on your car or garage door; getting lost, especially in familiar locations; or receiving multiple warnings or tickets for moving violations.
AARP and AAA offer courses in safe driving for older adults. To find those in your area, visit aarp.org/findacourse25 or https://ohio.aaa.com/traffic-safety/outreach/mature-operators.html
In Ohio, upon completion of the course, you may be eligible to receive a discount on your auto insurance. Consult your agent for details.
Additionally, AARP offers educational resources on vehicles, driving and alternative transportation. Watch short videos about the latest new vehicle technologies, and discover the free SafeTrip app, providing insights into how you drive, at aarp.org/quicklearnings. We Need to Talk is a free online seminar on how to assess driving skills and have a proactive conversation with loved ones about driving.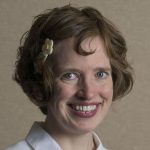 Betsy Butler is the Ohio Public Employees Retirement System's knowledge and issues strategist, researching information on pensions, retirement and health care. Betsy came to OPERS in 2009 after working as a special collections librarian for two OPERS employers: the Ohio History Connection and Miami University.