Rejuvenation via the great outdoors
'Forest bathing' can provide peace and inspiration in our busy lives
By Betsy Butler, Ohio Public Employees Retirement System
Nov. 2, 2023 – Whenever I'm stumped by a problem or challenged to come up with a strategy, I take my ruminations outdoors. After spending even just a few minutes appreciating the natural world, I return with a game plan, rejuvenated and ready to tackle my roadblock.
Immersing ourselves in nature heightens our senses, benefiting our physical, mental, emotional and social well-being. In fact, it's innately important to our love of life, making us more alert and productive, calmer and less fatigued.
That biologically driven need to commune with nature is known as "biophilia." When you add mindfulness to that concept, it's also referred to as "forest bathing," or "Shinrin-yoku."
You don't have to find a forest to bathe in its delights; spending time in a simple backyard garden or walking slowly in a pleasant residential neighborhood allows you to detach from the routine, meditate, and appreciate the things you're often too busy to notice. Breathing deeply can help you unwind, lowering any stress, anxiety, burnout or depression you may be feeling. Take in the atmosphere, observing the sights, scents, sounds and textures around you. Close your eyes to help you hear more intensely.
Sitting down or reclining on the ground – even taking your shoes off and feeling the ground under your bare feet – can heighten that effect. Let your attention be captured by the rising or setting sun, moving clouds, swaying branches or falling leaves. Observe the beautiful spiraling, curving patterns in nature, known as fractals, and feel relaxed. Just digging in the soil can ground you in nature.
Even if you can't get outside, you can derive similar restorative benefits from viewing photographs of nature, gazing out a window, pulling back curtains or blinds to let in sunlight, and adding house plants, a tabletop fountain or plant-themed furnishings to your home and office décor. Relaxing sounds like rainfall, the scent of essential oils such as lavender or spruce, or the meditative practice of arranging flowers also can vicariously transport you to the natural world.
Wherever that place is that brings you peace and inspiration, seek it out whenever you need a break. Surrounded by nature, enjoy the moment, clear your mind, and take that experience with you for the rest of your day. You'll lift your spirits, boost your productivity and heighten your creativity.
For more on forest bathing and biophilia, read:
"Biophilia: You + Nature + Home," by Sally Coulthard
"The Biophilia Effect: A Scientific and Spiritual Exploration of the Healing Bond Between Humans and Nature," by Clemens G. Arvay
"The Secret Therapy of Trees: Harness the Healing Energy of Forest Bathing and Natural Landscapes," by Marco Mencagli
"Forest Bathing: How Trees Can Help You Find Health and Happiness," by Dr. Qing Li
"Bathing in the Forest," by Nívola Uyá and Marc Ayats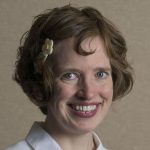 Betsy Butler is the Ohio Public Employees Retirement System's knowledge and issues strategist, researching information on pensions, retirement and health care. Betsy came to OPERS in 2009 after working as a special collections librarian for two OPERS employers: the Ohio History Connection and Miami University.