Answers to OPERS member questions
This month, learn about the COLA, your OPERS ID and how to ask for help
By Michael Pramik, Ohio Public Employees Retirement System
Aug. 24, 2023 – Members and retirees often ask us questions through our social media channels that others could benefit from. Periodically we post these questions and answers in our PERSpective blog.
This month we're addressing questions about the COLA process, how to secure your OPERS ID and how to schedule a counseling session.
Q: If OPERS' inflation-based COLA is capped at 3 percent, why isn't there a floor, some amount that has to be a minimum COLA issued each year?
A: The inflation-based COLA was implemented as part of pension reform in 2012. It applies to those who retired in 2013 or later. The Ohio legislature approved that change, and many others, that helped to strengthen our system for the long term.
A little history about our cost-of-living adjustment might help you understand how it's implemented today.
OPERS started providing a COLA in 1970, and it has changed several times since then. COLAs were always meant to lessen the impacts of inflation, not completely offset the effects of inflation on a pension benefit. Thus, even in the record-high inflationary periods of the 1970s, the OPERS COLA was set at a modest rate.
With that in mind, the COLA that's granted based on inflation measures the change in inflation (as represented by the CPI-W measured June-to-June). If the change is zero, then the adjustment is zero for those retirees. That's why there cannot be a "floor," or minimum increase, in an inflation-related COLA.
Remember that your vested pension benefit is guaranteed by statute. Cost-of-living adjustments are not.
Q: I worked in an OPERS position some time ago, but I'm not active now. I do not have my OPERS ID number. What can I do to get it?
A: Members can use the OPERS ID in place of their Social Security number in many instances, such as verifying their identity over the phone and submitting forms. If you've received a recent mailing from us, you'll find the OPERS ID at the top-right corner of the first page. If you don't have your OPERS ID, contact our Member Services department at 800-222-7377.
Q: I'm planning to retire in a couple of years, and I'd really like to straighten out several issues about my OPERS account before then. Is there someone I can talk with who can help me?
A: Members at any stage of their career can schedule a personal appointment with an OPERS counselor to review their questions and receive guidance with a form, application or process. You can speak with a representative in our Member Service Center by calling 800-222-7377 or by using the Message Center in your online account to receive a response to your question in one business day.
OPERS recommends those approaching retirement to set up an appointment with one of our counselors.
Phone counseling is perfect for those who just have a few questions or need some clarification.
Virtual counseling is conducted via Zoom and offers a face-to-face appointment without the need to travel. During a virtual appointment, screen sharing allows our counselors to navigate our website, assist with online forms, help with the retirement application and much more. You'll need a computer with Internet access and a working camera.
In-house counseling is conducted at OPERS' Columbus office, face-to-face with a counselor. This option is for those who appreciate in-person support or don't want to conduct the session over the Internet.
You can schedule an individual counseling appointment through your OPERS online account or by calling us at 800-222-7377.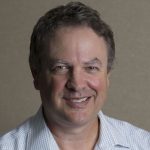 Michael Pramik is communication strategist for the Ohio Public Employees Retirement System and editor of the PERSpective blog. As an experienced business journalist, he clarifies complex pension policies and helps members make smart choices to secure their retirement.