Tips for multigenerational living
Here's how people of varying ages can reside together and thrive
By Betsy Butler, Ohio Public Employees Retirement System
Aug. 17, 2023 – It may not be for everyone, but multigenerational living – multiple generations living in a single home – is on the rise. Increasing life expectancies and costs of caring for both children and the elderly, together with the desire to live as affordably as possible, are prompting people to pursue alternatives to single-family home life.
While financial and caregiving needs are frequently cited reasons for sharing a home with other generations, this living arrangement also offers benefits like companionship, better communication, less social isolation, improved quality of life and the peace of mind that comes with caregiving. For example, older adults offer the benefit of sharing their knowledge and experience with young people while being exposed to new technologies and drawing positive feelings from their energy.
Modifications can make an existing home safer and more comfortable for older generations. Maintain stairs, since they provide excellent exercise for mature adults, but it's ideal to have at least one bedroom with its own bathroom on the main floor.
Add plenty of light fixtures to help older adults see well, being mindful of the tripping hazards cords can present. Consider adding universal design features, such as widening hallways and doorways measuring 40 inches or more to allow residents with mobility aids like a wheelchair or walker to navigate more easily.
In the bathroom, consider plugging in a nightlight to guide and illuminate overnight visits to this space, affixing grab bars to walls near the bathtub and toilet, replacing a traditional tub and shower with a walk-in shower, switching to lever-style handles for doors and faucets, and adding a handheld shower head. Installing a heat lamp can take the chill off the surroundings for older inhabitants, who may feel chilled more easily since we lose body fat as we age.
In the kitchen, position countertops at different heights so everyone can easily contribute to meal preparation. Create a family message center in this high-traffic area by adding a dry-erase board or chalkboard. To encourage shared experiences, establish a communal living room where everyone feels comfortable.
Combining multiple households creates an abundance of stuff to store. Pare down the unessentials, but keep familiar items, cherished mementos and photographs to keep elders grounded in their new surroundings. Maximize storage space by adding custom cabinets and double-hung clothes racks in closets, or by employing color-coding storage bins to facilitate easy access to personal possessions.
Multigenerational living is a convenient, rewarding experience, but it can be stressful at times. To ensure harmony, consider whether residents can realistically get along with each other, and whether lifestyles are compatible. Communicate openly, discussing financial considerations such as splitting the cost of household expenses, property taxes, insurance premiums and home maintenance. Establish fair house rules, shared chores and responsibilities, and agreed-upon details like décor preferences and temperature settings.
Employ heavy draperies, pocket doors, lockable doors and other space-creating techniques to maintain places that afford privacy for family members seeking time alone, or when working or studying from home. Similarly, consider converting a garage or basement into a space for younger residents to play and have fun. Building an unattached guesthouse or creating an accessory apartment – a separate suite with its own exterior entrance – are attractive options for elders who desire more separation from communal spaces.
For more, see:
"With a Little Help from Our Friends: Creating Community As We Grow Older," by Beth Baker
"Hive: The Simple Guide to Multigenerational Living: How Our Family Makes It Work," by Lisa M. Cini
"Together Again: A Creative Guide to Successful Multigenerational Living" and "All in the Family: A Practical Guide to Successful Multigenerational Living," both by Sharon Graham Niederhaus and John L. Graham.
"Intergenerational Cohabitation," from WOSU's Columbus Neighborhoods (Season 5, Episode 23), describes Nesterly, an online home-sharing portal that pairs young renters with older homeowners seeking to rent rooms in Columbus and other locations. Local agencies on aging also can provide information on home-sharing models for older adults.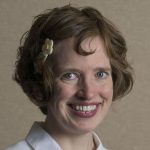 Betsy Butler is the Ohio Public Employees Retirement System's knowledge and issues strategist, researching information on pensions, retirement and health care. Betsy came to OPERS in 2009 after working as a special collections librarian for two OPERS employers: the Ohio History Connection and Miami University.